Interest Groups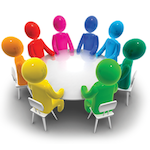 Interest Groups provide SPA members an opportunity to interact with other members who are engaged in personality assessment in similar venues. Interest Groups support the mission of SPA by fostering participation around similar interests and facilitating member networking and mutual support. Please see below for additional information by topic. For more information on each group, feel free to contact the Interest Group leaders listed below. Log into your member compass and update your profile to join any of the groups below!
---
EDUCATION and TRAINING INTEREST GROUP
Increase exposure to personality assessment throughout the psychology education lifespan!
---
COLLABORATIVE/THERAPEUTIC ASSESSMENT INTEREST GROUP
A collaborative community of assessors, promoting connections and friendships!
---
PSYCHOANALYTIC ASSESSMENT INTEREST GROUP
A focused opportunity to discuss their interests in psychoanalytic approaches to personality assessment!
---
HEALTH PSYCHOLOGY INTEREST GROUP
Share health psychology assessment experiences and the role of personality assessment in medical settings!
---
FORENSIC INTEREST GROUP
Developing interest and momentum for the implementation of forensic psychology and personality assessment!